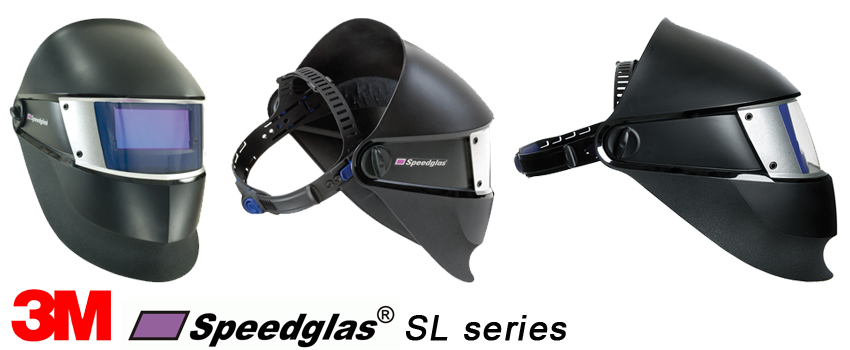 3M Speedglas SL Series
The 3M™ Speedglas™ SL Welding Shield is 25% lighter than any other Speedglas model. Designed specifically for quick welding tasks, a motion sensor automatically turns ON the welding filter when you pick up the shield.
Features

· Five adjustable dark shades 8 – 12 and a light shade of 3

· Filter size: 42 x 93mm

· Constant Protection UV/IR protection shade 12 permanent

· Four sensitivity settings

· Grab & Go – Auto ON function

· Dark shade can be increased to 13 or 14 using upgrade plates.

· Switching time light – dark 0.1 ms

· Battery life 1500hrs

· Total weight 360 grams
By using new liquid crystal designs and manufacturing techniques, we are able to make the Speedglas SL auto-darkening lens much lighter than our other models, but with the same outstanding optical quality and switching performance.

The Speedglas SL welding lens can be used with most arc welding processes – such as MMA, MIG/MAG, TIG and plasma welding. It is particularly appropriate for low-to moderate amperage welding (0.1 to 250 amps), with four user-selectable sensitivity settings and five dark state levels: 8, 9, 10, 11 and 12. The Speedglas SL welding shield is made from a strong lightweight material, which provides excellent protection. Unlike other materials that can absorb moisture and become heavy, the Speedglas SL shield is non-absorbent, so it retains its performance in high humidity. And we didn't cut weight by simply shrinking its size: the Speedglas SL shield's facial coverage is virtually identical to our Speedglas 9000 series.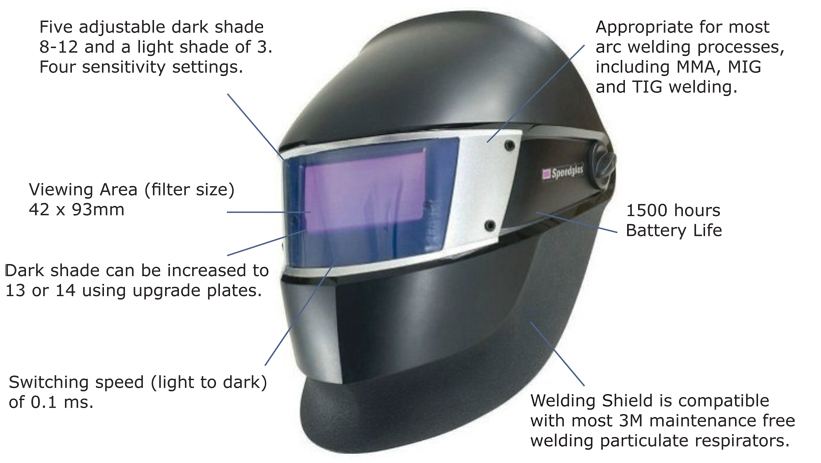 What Other Customers Purchased with This Item
| | | | |
| --- | --- | --- | --- |
| | | | |
| MTS 210 | pLASMA CUTTER P40 | TIG 160 AC DC | TIG 200 AC DC |