Strong Hand Tools
For great products at great prices, call us on +27 11 784 0171 or email: sales@weld-tech.co.za
Welding Tables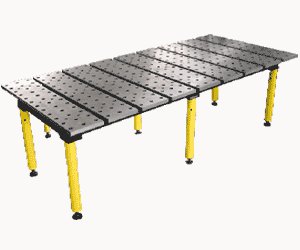 | | |
| --- | --- |
| | Precision, ground steel plates, with CNC machined 16mm holes in a 50mm grid pattern for locating, positioning and holding BuildPro™ clamps and accessories |
| | Plates can be reconfigured to extend the width of the table for larger projects. |
| | 40mm spacing designed flexibility and access for standard clamps and accessories |
| | Heavy Duty Self Leveling Feet ensure proper leveling of the table on uneven surfaces. |
| | Heavy Duty 4 Beam support base provides a 2 ton load capacity. |
Optional Nitrided (Heat Treated) Tabletop
The BuildPro™is available with a protective nitrided tabletop. The nitriding (heat-treating) process is a mechanical polish and post salt bath oxidtive treatment. The benefits of this process include: Anti-Spatter, Corrosion, Protection, and Resitance to wear, lubrcity and fatigue strength.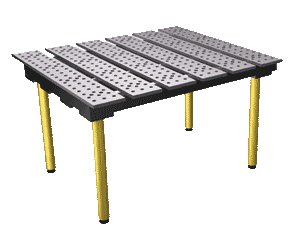 The table you'll rely on everyday....
The very practical, modular design of the BuildPro™ Table makes it eay to set-up and tear down for the job at hand, big or small. Save time and money by holding, positioning and locating quickly and easily with a wide variety of BuildPro clamps and eccessories
The BuildPro™ Table was designed to fit in with the way you work now, making your work even easier to complete. No training required. The BuildPro™ will help you decrease fixture set-up time, and increase work efficiency.


For great products at great prices, call us on +27 11 784 0171 or email: sales@weld-tech.co.za
Contact us for our Detailed Product List