Air Screw Compressors
Detroit Screw Air Compressor
Intelligent Controller
· Intuitive interface allows for unsupervised 24 hour operation. Full auto shut down and test functions.
· Easy to learn and use.
Electrical System
· Intellegent automatic PLC.
· European AC contractor.
· German built electro-magnet valve ensures precise function and long service life.
· World-class electric motor features Grade F insulation and IP54 protection. SKF bearings are used.
Real Time Running Display
Real-time data displays on the LCD screen.
BENEFITS OF VARIABLE SPEED DRIVE SCREW TYPE COMPRESSORS
· High efficiency and energy saving, up to 50%.
· Closed loop constant pressure air feed.
· Low dissipation, long life and low noise.
· Automatic pressure control, constant air delivery.
· Smooth start-up, ensures fast delivery.
· Less air storage required saving you space and money.
The best cost to performance ratio
Due to leading design concepts and outstanding performance, the machine can produce more compressed air with the lowest energy consumption, thus lowering energy costs and increasing profits.
During the life of an air screw the operational energy costs often exponentially outweigh the purchase cost of the machine. Detroit Air Compressors incorporate energy saving concepts into every part of the design and production process. Our goal is not only to provide you with the best value machine, but also the lowest energy consumption in the market. Detroit Air Compressors offer unprecedented energy across the range.
Belt Drive Screw Compressors.
The degree of belt tension is automatically adjusted to the belts condition. Through adjusting the tension, the loss of pressure and efficiency can be reduced to the lowest point, thereby increasing efficiency of air products.
Narrow belts have higher transmission power with efficiency of about 98%, this can reduce internal heat and prevent aging. This system reduces belt ware and improves service life.
Oil Filter
The screw on oil filter makes servicing convenient. This filter eliminates oil impurities and other particles produced by wear and tear. High quality oil filtration extends the service life of rotors, bearings and other moving parts.
Thermostatic Control Valve
Designed specifically for high ambient temperature and high humidity, this valve ensures the machine reaches optimum working temperature quickly.
Efficient Cooling System
Utilising production methods and design from Germany the cooling system was designed to provide sustainable and efficient operation in high temperature, high humidity environments.
Air/Oil Seperator
Screw on design of this separator allows for efficient servicing. The separator will remove oil particles from the air down to a ratio of 1:2 parts per million.
Loading Head
The newly designed and improved intake control system ensures economic control and protection of the screw. The air intake filter eliminates dust and other harmful particles that may cause premature wearing of the machine.
World-Class Airend
Detroit Air Screws are leaders in their field due to stringent design and production systems. All air ends are sourced from German manufacturers. Outstanding quality and reliability has been achieved combined with the benefit of low cost. We offer belt drive systems up to 75KW and direct drive up to 500KW.
---
T-15 AIR SCREW 15HP 56 CFM - CFM RATED AT 8 BAR OUTPUT
MODEL: T-15 11KW Rotary Air Screw

Belt Drive Air Cooled

Free Air Delivery CFM/BAR
CFM
BAR
Oil Content
Noise Level
HP
KW
Voltage

Isolation

Grade

Dimensions

LXBXH

Mass

KG

63.6
7
<3-5PPM
70-72 dB
30
22
380/50Hz
F
830

410
65.5
8
1000


49.4

10
1290


42.4
12


14
T-20 AIR SCREW 20HP 64 CFM - CFM RATED AT 8 BAR OUTPUT
---
MODEL: T-20 15KW Rotary Air Screw

Belt Drive Air Cooled

Free Air Delivery CFM/BAR
CFM
BAR
Oil Content
Noise Level
HP
KW
Voltage

Isolation

Grade

Dimensions

LXBXH

Mass

KG

70.6
7
<3-5PPM
70-72 dB
20
15
380/50Hz
F
830

420
63.6
8
1000


55.5
10
1290


49.4
12


14
---
T-30 AIR SCREW 30HP 120 CFM - CFM RATED AT 8 BAR OUTPUT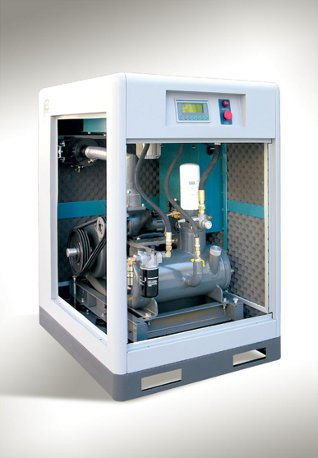 ---
MODEL: T-30 22KW Rotary Air Screw

Belt Drive Air Cooled

Free Air Delivery CFM/BAR
CFM
BAR
Oil Content
Noise Level
HP
KW
Voltage

Isolation

Grade

Dimensions

LXBXH

Mass

KG

127.2
7
<3-5PPM
70-72 dB
30
22
380/50Hz
F
1150

580
120
8
950


106

10
1400


91.8
12


14
---
T-40 AIR SCREW 40HP 163 CFM - CFM RATED AT 8 BAR OUTPUT
MODEL: T-40 30KW Rotary Air Screw

Belt Drive Air Cooled

Free Air Delivery CFM/BAR
CFM
BAR
Oil Content
Noise Level
HP
KW
Voltage

Isolation

Grade

Dimensions

LXBXH

Mass

KG

173
7
<3-5PPM
70-72 dB
40
30

380/50Hz
F
1270

780
162.5
8
1070


141.3

10
1500


127.2
12


14
---
T-50 AIR SCREW 50HP 205 CFM - CFM RATED AT 8 BAR OUTPUT
MODEL: T-50 37.5KW Rotary Air Screw

Belt Drive Air Cooled

Free Air Delivery CFM/BAR
CFM
BAR
Oil Content
Noise Level
HP
KW
Voltage

Isolation

Grade

Dimensions

LXBXH

Mass

KG

215.5
7
<3-5PPM
70-72 dB
50
37.5

380/50Hz
F
1270

780
204.9
8
1070


180.1

10
1500


162.5
12


14
---
T-75 AIR SCREW 75HP 339 CFM - CFM RATED AT 8 BAR OUTPUT

RRRRRRRRRRRRRRRRRRRRRRRRRRRRRRRRRRRRrrrr
Belt Drive Air Cooled

Free Air Delivery CFM/BAR
CFM
BAR
Oil Content
Noise Level
HP
KW
Voltage

Isolation

Grade

Dimensions

LXBXH

Mass

KG

363.8

7
<3-5PPM
70-72 dB
75

55

380/50Hz
F
1700

1440
339.1
8
1400


300.2

10
1650


269.4
12


14
---